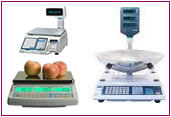 RETAIL WEIGHING SCALES IN LONDON
All the retail shop scales we supply are Class III Trade Approved for retail use in the UK. These shop scales are suited for use in supermarkets, convenience stores, butchers, green grocers, fruit and veg stalls, fish mongers, sweet shops, delicatesssen and other types of food outlets.
Our popular retail weighing scales fall into 3 categories:
PRICE COMPUTING SCALES from £169



Price computing scales are stand-alone weighing scales designed for retail shop use.

Simply place your item on the scale, enter the price per kilogram or price per 100g, and the shop scale will display the weight and proportional price. Preset keys / PLU numbers allow you to store the price of your most popular items. These scales are available with optional stainless steel scoops, pole display and external ticket printer.

Click here to see Retail Scales and Prices...



LABEL PRINTING SCALES from £825



Our label printing weighing scales are very popular with busy meat and deli counters in supermarkets as well as food distributors / manufacturers. A professional printed label can incorporate your business name / logo, product information, ingredients, packing / expiry date, barcode, weight and price. Various sizes and types of labels are available including freezer labels.

Click here to see Labelling Scales and Prices...


POS WEIGHING SCALES from £295



POS weighing scales integrate with an POS system, such as our SPS500 and SPS2200 solutions, and streamline the identification of a product and automate price retrieval. These shop scales are available with an optional pole display or integrated customer display.

Click Here to see POS Scales and Prices...


Click on your required category above for details of our different shop scales, for fast delivery in London.
We can also supply kitchen scales for commercial restaurant use, high precision weighing scales for lab use and hanging scales for butchers, abbatoirs and meat distributors for weighing animal carcasses. Contact us on
020 8203 4481
with your requirements.